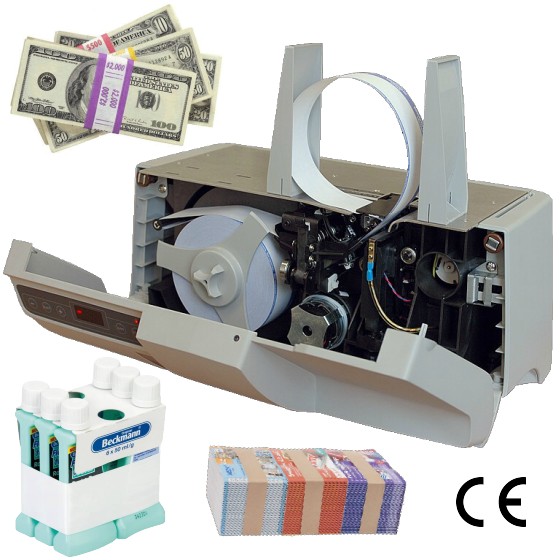 Automatic taping machine model KT-500BD is specially developed for automatically banding small objective with PE coated paper tape in 30/40mm width. The space-saving table top model has no arch and thus permits to remove the product towards the top. Maximum loop size 600 mm. Suit to banknote bundles, securities and documents with one cross binding stripe. Banknote banding is performed with special paper-based heat-sealing tape.
LED display for user-friendly operation, directly showing the settings of loop size, banding tightness and sealing temperature. Package stop, adjustable side and rear trips facilitate neatly banding the banknotes at the same position allows the adaptation to different banknote sizes, packet volumes and banding tapes. Banding loop is formed automatically. Adjustable back and side stops facilitate precise placing of the banknote bundle. Two operating modes provided. In automatic mode convenient for banding single bundles (100 banknotes) banding starts immediately after placing the bundle. In manual mode recommended for banding banknote packs (10 bundles), batches of documents, security papers or documents, banding starts after pressing START button.
Applications: The table top banding machine is used thousand in a great variety of plants. Major customer is Cash-in-transit companies, Financial institutions, Graphics industry, Logistics, pharmaceutical packaging, food and cosmetic industries, gift and stationery field, after printing industry. ...etc. We are customers' good partner to give solution reduce their daily burden and enhance the efficiency of strapping and banding request.
For the usage in banking field, KT-500BD not only suit to loose banknotes banded into a packet, but also 1000pieces of banknote (10 pre-banded packets) can be strapped together. It is 100% meet to the standard requirement of Central Bank in India, Bangladesh and most of the banks in South Asia zone. For getting optimal quality weld seal user can perform precise setting up of the device without recourse to service engineer. Simple operating parameters adjustment of KT-500BD allows setting up the device in accordance with the sealing tape characteristics. Due to the wide packaging table it is possible to perform cross and lengthwise binding of single bundles and 500 sheets volume batches of documents and securities up to A4 size. Banding process end can be accompanied by audible beep that can be also switched off by user. Adjustable parameters including: full loop size, final loop size, tightening force, welding temperature, pack retention time, weld seal width.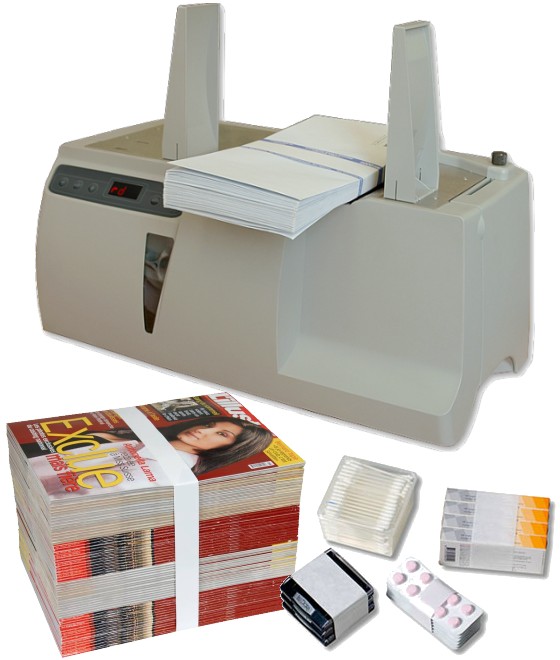 Technical Specification:
| | |
| --- | --- |
| Sealing Technology | Heat melting sealed |
| Available Calibrated | 30, 40mm width; 140m Length |
| Performance | Min. bundle strapping time (100banknotes) approx. 2sec |
| Banding Materials | Coated Kraft, Polyethylene (PE) film |
| Operating modes | Auto, Manual |
| Display | Red 4-digit LED |
| Dimension | 231 (D) x 417 (W) x 184/314 (H) mm (with loop holders ) |
| New Weight | 7.5 Kgs |
| Power Supply | AC 110V/60Hz or 230V/50Hz (universal model) |
| Power Consumption | approx. 110W (stand by mode 6W) |
| Usage Environment | Temperature 0°C ~ 40°C (Operating), Humidity 15 ~ 90% |
| Optional Device | Foot Pedal, Customerized Printing Tape |
Smart Banknote Banding Machine PS-1 come with the latest automation technology for instant printing on banding tape. Save time! High Efficiency! Without human intervention! The technology combines thermal printing and banknote binding by secure currency management. In printing technology the system is capable of printing machine readable barcode (1D/2D QR code), together with the bank name, logo image, local font, symbol, operator ID, denomination and date/time. This offers the possibility of both human and machine identification of banknote bundles.
| | |
| --- | --- |
| Sealing Technology | Heating & pressing sticking |
| Warm-up time | Approx 60 second after switch on power |
| Printing Technology | TPH (Thermal Print Head) real time printing |
| Printing Capacity | Max. 5 lines with 20 characters for each line |
| Bundling Size | Width: 25mm, Height: 60~90mm, Length: >90mm |
| Bundling Capacity | Max. 100 pcs banknote |
| Bundling Speed | Approx 2 Second per bundle (Printing & bundle same time) |
| Display | LCD display & Touch Panel for user easy operation |
| Functions Adjustable | 1. Bundle Position, 2. Heat Temperature 3. Tightness |
| Power Supply | AC110V~220V, DC24V, Standby: 3.5W, Max.100W |
| Dimension | 272 (L) x 260 (W) x 396 (H) mm |
| Weight | N.W: 10 kgs ; G.W: 10.5 kgs |
| Available Tape | Thermal Paper with Silicon Coating (Taiwan Made) |
| Available Tape Size | Width: 30mm or 40mm, Length: upto 100M or 150M |